South Shore Clean Up 2023
Posted by Darleen Lannon on Monday, April 17, 2023 at 8:32:20 AM
By Darleen Lannon / April 17, 2023
Comment
The South Shore is known for its stunning natural beauty, with pristine beaches and breathtaking landscapes. However, to maintain this beauty, it is important for the community to come together and participate in community clean-up events. These events not only help to keep the area clean and healthy but also create a sense of pride and ownership among residents.
There are many benefits of community clean-up events. First and foremost, they help to improve the local environment. Litter and debris can be harmful to wildlife, degrade water quality, and negatively impact the ecosystem as a whole. By removing trash and debris from the environment, we can help to mitigate these negative effects and preserve the natural beauty of the South Shore.
Saturday, April 22
Earth Day Clean Up Weir River and Straights Pond 9 am - 12 pm
Volunteers can get trash bags at the Weir River Estuary Center, Wadleigh Park (intersection of Forest Ave, Atlantic Ave and Jerusalem Rd) and 147 Atlantic Av in Hull
Wear gloves, boots and bring a rake or grabber. Visit http://www.weirriver.org/ for more information. After the clean up, volunteers can meet for a picinic with Nona's Ice Cream at Atlantic St Playground in Hull at 12pm.
Hingham Democratic Town Committee Clean Up at World's End 9-11am


Volunteers should meet that the Rangers Station on Martin's Lane at 8:50. The clean up effort will focus on a one mile trail walk. Parking is available. For more information, visit https://www.facebook.com/events/608625067850046
Cohasset Earth Day Clean Up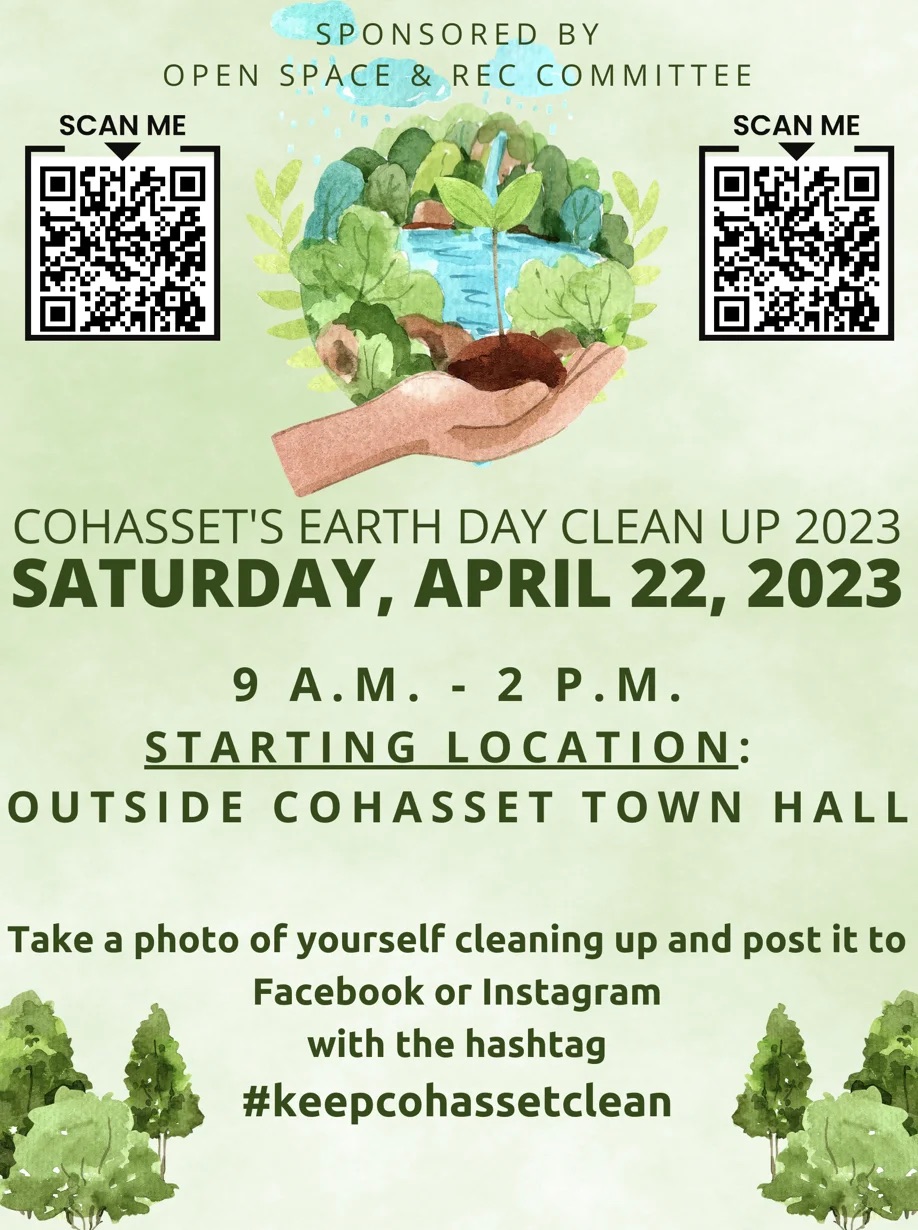 May 6, 2023
55th Annual Scituate Ship Shape Day 8am-1pm
Visit http://shipshapeday.org/ for details about this wonderful community event.