Sizzling Summer Fun on the South Shore!
Posted by Darleen Lannon on Thursday, August 3, 2023 at 1:17:26 PM
By Darleen Lannon / August 3, 2023
Comment
It feels like the summer sun is in a hurry to dazzle us before autumn whispers its arrival. Hold onto your sunhats and flip-flops because the South Shore is about to become your playground of excitement and adventure! 🌞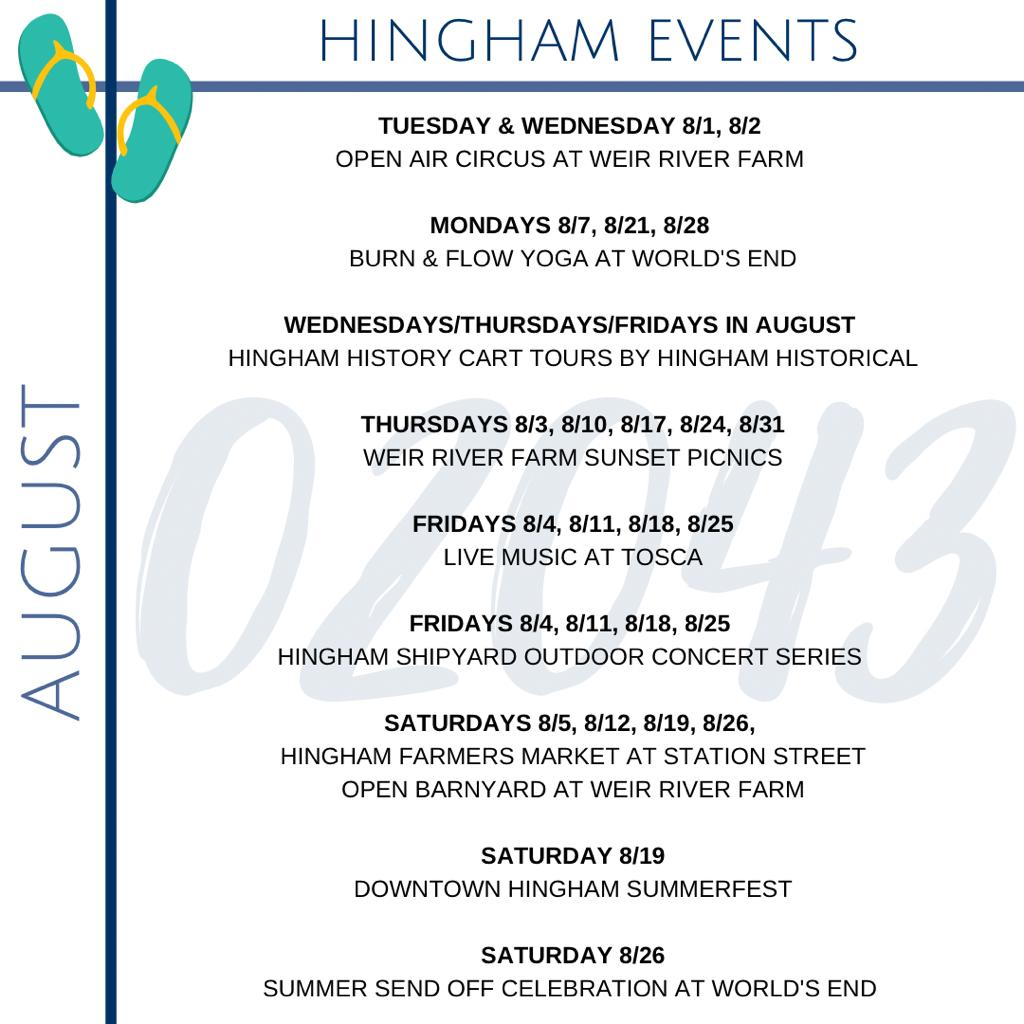 Gear up for an August packed with more thrills than a rollercoaster ride. The calendar is your ticket to a whirlwind of fun-filled events that will have you dancing, laughing, and creating memories
1. Step right up to the spectacle of the Open Air circus at the enchanting Weir River Farm. 🎪 Let your inner child run free as you marvel at gravity-defying acrobats, charismatic clowns, and majestic animals strutting their stuff. It's not just a show; it's a gateway to a magical realm.
2. Burn and flow yoga at World's End - a chance to recalibrate your body, mind, and spirit in harmony with nature. Nestled amidst stunning natural beauty, this unique yoga experience offers a transformative journey for both body and mind.
3. Hingham History Cart Tours. Step back in time as you embark on a delightful journey through the picturesque streets of Hingham, guided by our knowledgeable Historical Society Staff. Booking your tour is a breeze. Simply select your preferred day and time for a 45-minute adventure into Hingham's history.
4. The Sunset Picnics at Weir River Farm series invites you to indulge in an enchanting evening filled with local breweries, tantalizing food trucks, and the soothing strains of live music. It's a perfect opportunity to gather your friends and family, lay out your picnic blanket and comfortable chairs, and unwind in the company of good company and even better food. The farm store is a treasure trove of locally-sourced picnic supplies. From delectable treats to Trustees-grown meat, dairy, and fresh produce, you'll find everything you need to curate a memorable picnic experience of your own.
5. Are you ready to groove? August is your VIP pass to a live music extravaganza, at Tosca. 🎶 Every week, let the rhythm of different melodies sweep you off your feet. The South Shore's got your music cravings covered. Get ready to dance like nobody's watching and sing like nobody's listening!
6. Hingham Shipyard Outdoor Concert Series. Summer nights are about to get a whole lot more melodious as everyone's favorite outdoor music event makes a grand return! The amphitheater is more than just a haven for music enthusiasts. It's a place where families come to share moments, where friends gather to create memories, and where the community bonds over a shared love for the arts.
7. Hingham Farmers Market. As the vibrant colors of summer paint the landscape, the local market is gearing up for an exciting high season ahead. There's an enchanting treat in store for families and young ones – coloring sheets that celebrate the wonders of farms and the bountiful products that grace the market stalls. It's not just a shopping experience; it's a journey into the heart of agriculture and gratitude.
8. Downtown Hingham Summerfest. Get ready to groove, sway, and celebrate at the most anticipated event of the season – the Family-Friendly Block Party Music Festival! It's a one-of-a-kind extravaganza that promises to leave you tapping your feet and humming along. This vibrant festival is set to feature sensational live performances by Gracie Grace and All the Good Boys, along with a special guest appearance by The Aldous Collins Band.
9. Did you miss the mesmerizing Summer Solstice at World's End in June? Fret not, because the grand finale is on its way – the Summer Send Off Celebration at World's End! An amazing summer with a concert featuring the Duppy Conquerors, Boston's premier Bob Marley tribute band. Named after Bob Marley's hit song, the term Duppy Conqueror means "killer of bad spirits." The Duppy Conquerors will, "Lively up yourself," as you're jammin' to Bob Marley's music!🌅 Picture this: a breathtaking sunset painting the sky with hues of gold and pink as you gather with kindred spirits to bid adieu to summer. It's not goodbye; it's a 'see you later' filled with gratitude for the memories made and the adventures yet to come.