Historical Homes in Hingham, MA
Posted by Darleen Lannon on Tuesday, May 2, 2023 at 10:01:37 AM
By Darleen Lannon / May 2, 2023
Comment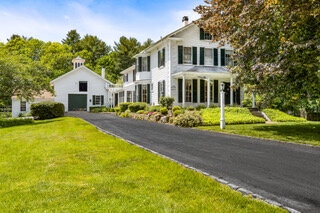 Hingham, Massachusetts is known for its rich history and beautiful architecture. The town is home to a number of historic homes and buildings, many of which date back to the colonial era. In this blog post, we will take a closer look at some of the most notable historic homes in Hingham.
1. Dr. JE Harlow House
One of my newest real estate listings is The Dr. JE Harlow House , it is a beautiful Greek Revival home that was built in 1857. The house is now a private residence but is notable for its impressive architecture and well-preserved period details, including 10' ceilings, oversized windows, and 5 fireplaces.www.507MainSt.com
The Old Ordinary is a historic house that was built in 1688 and is now home to the beloved Hingham Historical Society. The house served as a tavern and inn in the 18th century and was a popular gathering place for locals and travelers. Today, visitors can tour the Old Ordinary and learn about its history and significance to the town of Hingham. The tavern is open to the public for private tours. https://hinghamhistorical.org/old-ordinary/
The Samuel Lincoln House is another notable historic home in Hingham. Built in 1690, the house is one of the oldest in the town and was home to several generations of the Lincoln family, including Samuel Lincoln, a direct ancestor of President Abraham Lincoln. The house is now a private residence and is listed on the National Register of Historic Places.
4. Benjamin Lincoln House
The Benjamin Lincoln House is another important historic home in Hingham. Built in 1747, the house was home to Benjamin Lincoln, a prominent military leader during the American Revolution. The house is now a private residence but is visible from Main Street in Hingham.
5. Derby Academy
Derby Academy is a historic private school building in Hingham that dates back to 1791. The school was founded by a local merchant, Eliakim Derby, and was originally intended to provide education for boys in the town. Today, Derby Academy is a coeducational school that serves students from preschool through grade eight.https://www.derbyacademy.org/welcome?gad=1&gclid=CjwKCAjwo7iiBhAEEiwAsIxQEdCEAWOSJV-1vx68s0KccZR6dNp-X24ZPJ5SX5lvJ6smen5Q0fxnlhoCA-gQAvD_BwE
Another one of my current real estate listings is the magnificent Edward Wilder home. The main part of the home was built in 1650 and features beautiful exposed beams and a "ship staircase". www.597MainSt.com
These are just a few examples of the many historic homes and buildings that can be found in Hingham, Massachusetts. Whether you're a history buff or simply appreciate beautiful architecture, a visit to Hingham is sure to be a rewarding experience. Be sure to check out these and other historic sites on your next visit to this charming New England town.