Celebrate Hingham High School's 2023 Homecoming Weekend on October 20- October 21 A Community Event You Won't Want to Miss!
Posted by Darleen Lannon on Wednesday, October 18, 2023 at 12:41:15 PM
By Darleen Lannon / October 18, 2023
Comment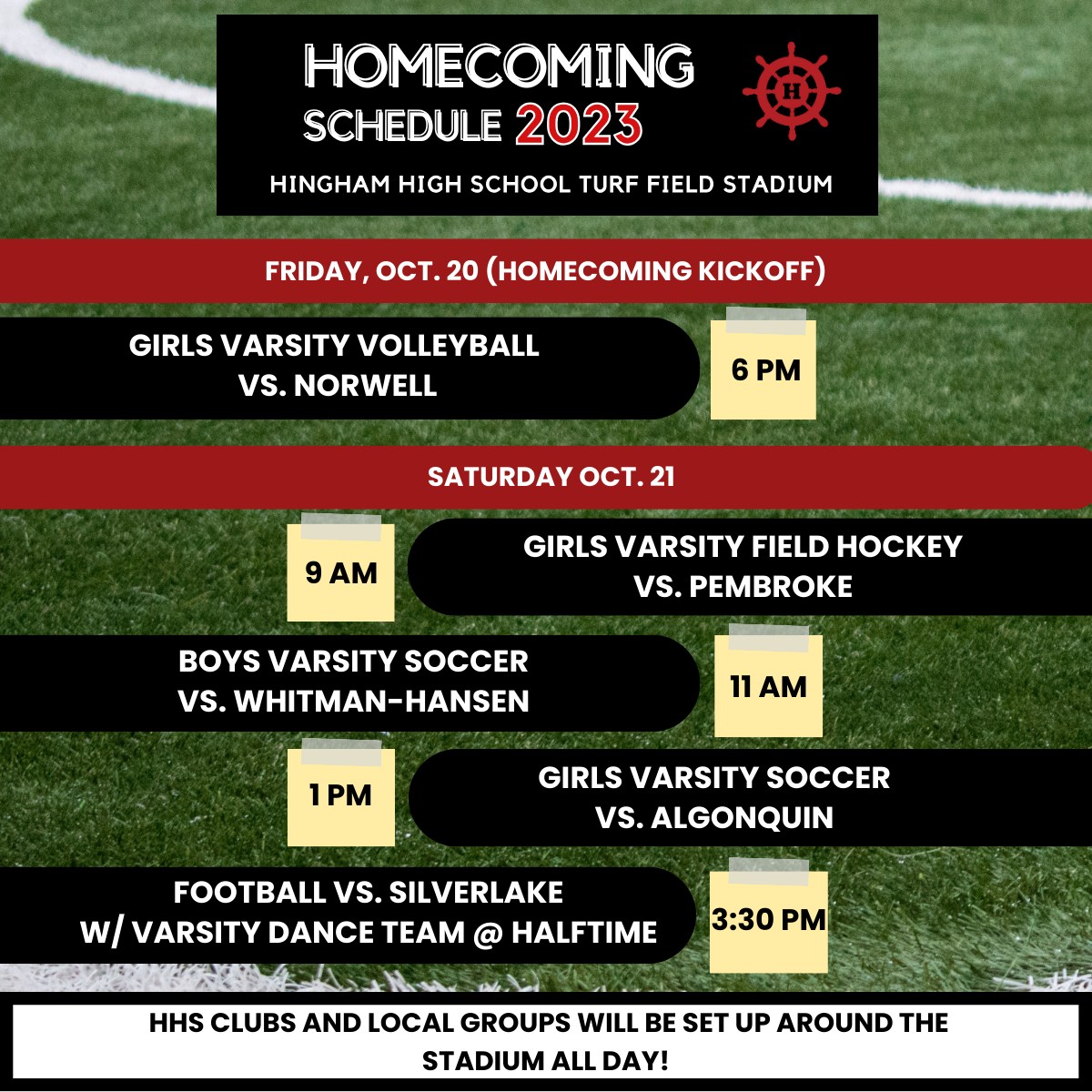 Fall is in full swing, and that can only mean one thing for the residents of Hingham, MA—Hingham High School's 2023 homecoming weekend is upon us! This annual event is not only a special occasion for the students, but it's also a community gathering that showcases the talent, and vibrant culture of Hingham.
The Weekend Itinerary
Friday Night Lights: Girls Varsity Soccer
Kick off the weekend on Friday at 6:00 PM with the Girls Varsity Soccer game. Watch as our talented athletes vie for victory, setting the tone for the exciting events to follow.
Saturday: A Day Full of Activities
If you think Friday sounds fun, just wait until you see what's in store for Saturday! Starting at 9:00 AM, the Boys Soccer team will grace the field with their exceptional skills. But that's just the beginning.
Football Face-off
At 1:00 PM, Hingham High's Football team will go head-to-head with Silver Lake in a game that promises thrills, spills, and exceptional plays.
Halftime Extravaganza
During halftime, prepare to be wowed by Hingham High School's Varsity Dance Team. This skilled group of Hingham High School dancers never fails to impress, and their halftime show promises to be a spectacle you won't want to miss.
Support Local Community Groups
The stadium will also be bustling with more than just sports fans. Various Hingham High School clubs and local community groups will be setting up tables around the stadium throughout the day. This is the perfect opportunity for some early Christmas shopping or to find that unique " Hingham" item you didn't know you needed. Not only will you walk away with something special, but you'll also be supporting local Hingham initiatives.
The Perfect Blend of Sports and Community
But the weekend is more than a display of athletic prowess. It's a testament to the strength and unity of the Hingham community. By supporting our local athletes and community groups, we foster a sense of belonging and shared achievement that makes Hingham such an incredible place to live. So come down to Hingham High School this weekend to be part of an event that celebrates not just the students, but the entire community.
See you there!
Darleen Lannon Real Estate welcomes you to be part of this vibrant Hingham community event. If you're looking to make Hingham your home, Darleen, Hingham's top realtor, can help you find the perfect property. Contact us today for all your real estate needs in Hingham, MA.