7 Smart Ways To Make Your Kitchen Shine While Staying Put
Posted by Darleen Lannon on Monday, November 7, 2022 at 10:11:09 AM
By Darleen Lannon / November 7, 2022
Comment
Decided Not To Sell? 7 Smart Ways To Make Your Kitchen Shine While Staying Put.
By Ana Durrani
Nov 2, 2022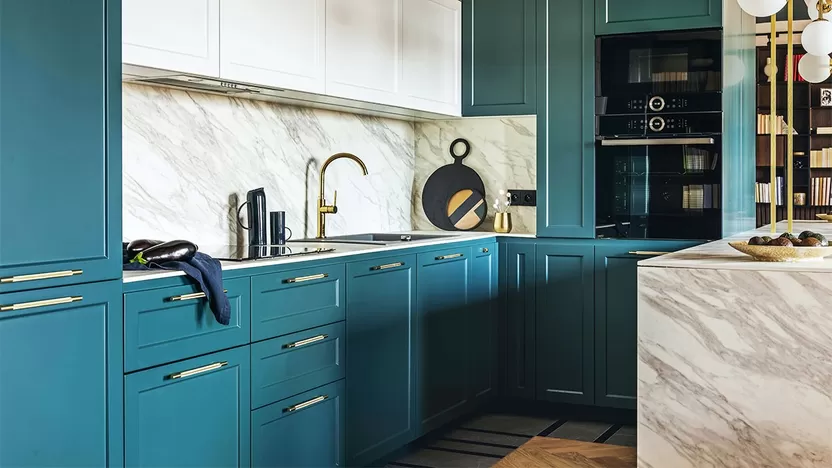 The one-two punch of high mortgage rates and inflation has caused would-be homebuyers to reconsider buying a house right now. This notion, in turn, has caused some home sellers to rethink putting their homes on the market.
If you've chosen to stay put for now in favor of making improvements to your home, we suggest you focus on the kitchen.
"A kitchen update can improve your home's resale value, yield a healthy return on your investment, and breathe new life into the most popular room in the house," says David Steckel, a home expert with Thumbtack. "A few small changes can lead to an unrecognizably beautiful kitchen space."

Whether it's new countertops or an appliance upgrade, here's how to make your kitchen look as gorgeous as you've always wanted it to. Plus, if you do decide to sell in the future, your new kitchen will be a highlight for potential buyers.
1. Repaint and reface the cabinets
If your cabinets look worn out, replacing them isn't your only option—try repainting them instead. Not sure which color to go with? White is always a safe choice because it goes with everything and will be appealing to most buyers if and when you do choose to sell.
"This is far less expensive than buying and installing new cabinets," says Steckel. "And, you can use the money you save for other dream kitchen upgrades like a backsplash, new countertops, or new appliances."
You can also replace or eliminate cabinet doors altogether, or remove parts of wall-mounted upper cabinets to provide open shelving.
2. Swap your cabinet hardware
Are the knobs and handles on your cabinets looking a little worn or dated? It's time to swap out your hardware.
"Cabinet and drawer hardware is the jewelry of the kitchen, and changing it up is an easy way to dramatically change the look and feel of your space without a lot of work or expense," says Gary McCoy, Lowe's store manager in Charlotte, NC.
3. Install a new faucet
A new faucet can do so much more than simply upgrade the functionality of your sink; it can also transform the look of your kitchen.
"Faucets have an instant impact on the design of a space," says Steph Gaelick of Steph Gaelick Designs in Brooklyn, NY. "No matter your budget, I advise buying a reputable, trusted brand. It makes the upgrade a great selling point when you do decide to sell, and gives buyers confidence to know these upgrades are beautiful and will last."
Gaelick recommends the Purist Collection from Kohler, which suits a wide range of aesthetics. Her personal preference is the matte black finish because it has mass appeal.

4. Upgrade your countertops
When it comes to a kitchen renovation, is there anything more exciting than picking out new countertops? Just make sure you choose the right type of material for your lifestyle.
Quartz, granite, and butcher block countertops are the most popular options right now, Steckel says. Marble is a timeless and beautiful countertop choice, but this type of natural stone is notoriously high-maintenance.
Also, make sure your new countertops complement your backsplash and cabinetry color.
5. Spruce up your island
"Countertops account for a lot of visual real estate in the kitchen. My go-to design hack for those looking to transform the look of their kitchen on a budget is to simply swap out the surfacing on the kitchen island," says Kim Lewis of Kim Lewis Designs in Austin, TX. "It's naturally a focal point and gathering spot of the kitchen, so adding beautiful surfacing goes a long way."
Lewis likes Silestone's quartz countertop in Calacatta Gold since it captures the beauty and drama of natural stone, is durable, and requires no maintenance. It can also be easily sourced from The Home Depot.
6. Add shiny, new appliances
Were your appliances installed when the Y2K bug was top of mind? If the answer is yes, it's probably time to replace your refrigerator, range, dishwasher, or microwave—or all of the above.
You can replace a plastic dishwasher with a more durable stainless-steel model that's fingerprint-resistant. Remove your white fridge and opt for a black stainless-steel option with French doors. Or go all out and get a smart refrigerator.
"If you have a single wall oven, talk to an appliance contractor about creating more space in your kitchen for a double oven," says Steckel.
7. Rethink your lighting
Good lighting is essential in a kitchen, so make sure to bring in a variety of fixtures.
"Give the room a new glow by running rope lights along the bottom of upper and lower cabinets," says McCoy.
If you're really looking to make a statement, hang a pair of decorative pendant lights over your countertop or island.
"It creates a sense of warmth and refinement, while also anchoring the space," says Paul De Andrade of Studio Kestrel in New York City.

De Andrade recommends Arteriors' Harvey pendant, which features natural rattan and an open dome form that adds texture and ambiance to your space.