4th of July in Hingham
Posted by Darleen Lannon on Sunday, June 26, 2022 at 8:46 PM
By Darleen Lannon / June 26, 2022
Comment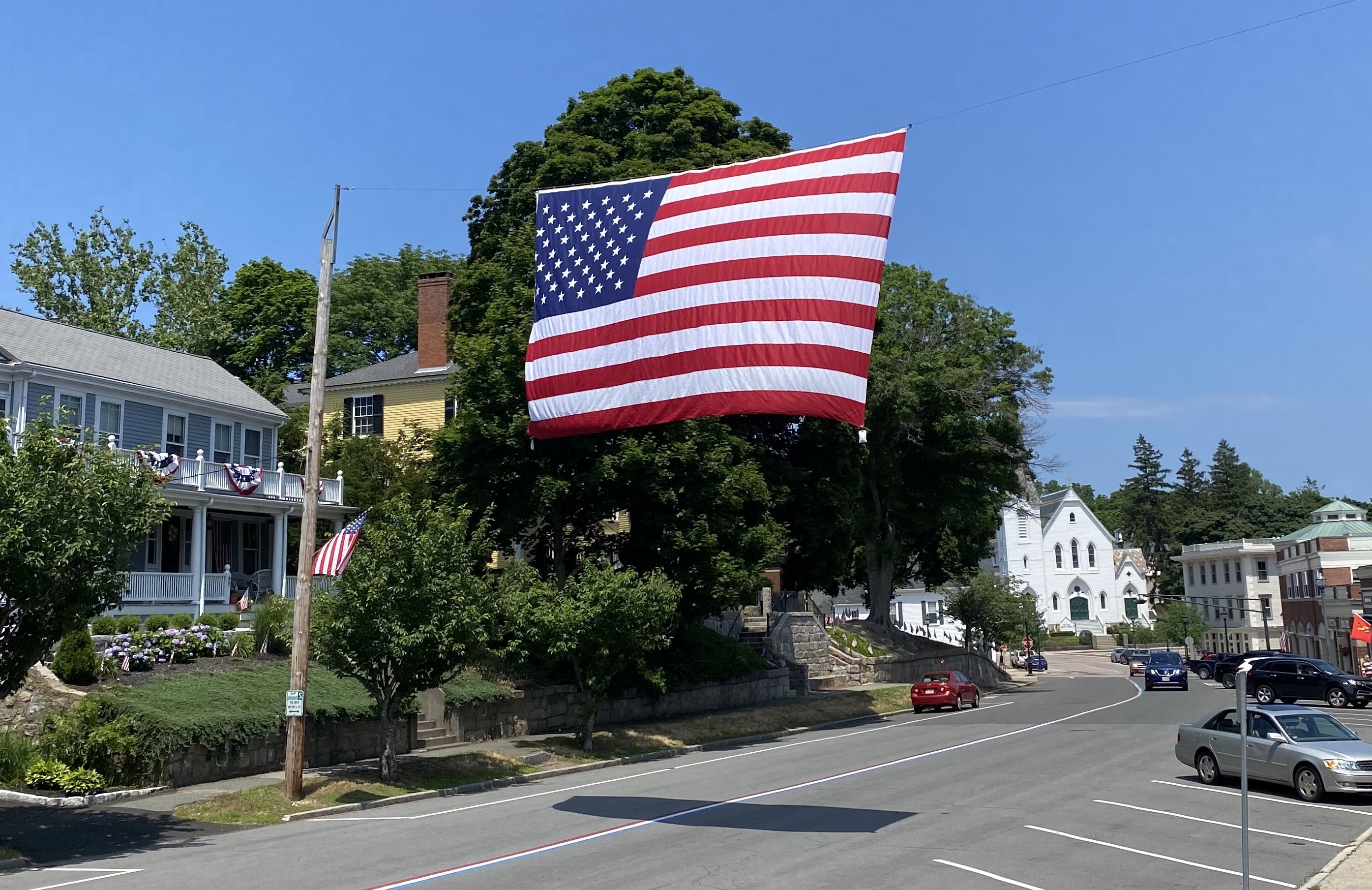 4th of July in Hingam is truly one of resident's favorite days of the year. The whole day is a spectacle of town pride and patriotism. Main Street is framed with cheering crowds starting at 7am to encourage the runners in their over 4 mile journey from the Middle School to Hingham Square. The finish line, located downtown under a huge American flag, is truly a sight to be seen. Then more crowds start lining the area to camp out for the best vantage point for viewing the parade. This holiday is so loved the town even paints the street divider lines red, white and blue alond the parade route! From beach chairs peppered along the street to full blown lawn parties at the stunning lower Main Street homes, the whole town seems to make it out to cheer on the parade participants. If you have young children, make sure to bring a bag to collect some candy that the floats throw to the crowds! Make sure you wear sunscreen, bring a hat and lots of water. It gets hot in the sun - Brewed Awakenings and Atlantic Bagel are always open so its a good spot to grab an ice coffee or a snack!
Where is the best place to view the parade? Everyone you ask seems to have a different opinion but anywhere along the route - from the High School to Middle Street to Main Street ending at Station Street downtown - is a great spot! Wondering where to park? If you don't have a friend that lives near the route, try the library parking lot or town hall lot in order to view in Hingham Centre, and try the town lot behind Tosca for the best downtown viewing spots.
Schedule of the Day's Events:
ROAD RACE
7:00 a.m.
4.47 miles, point to point. Course starts at the Hingham Middle School and continues down historic Main Street, ending in the Square under a huge flag with enthusiastic crowd. Register here
PANCAKE BREAKFAST
7:30 to 10 a.m.
The traditional Lions/Kiwanis Fourth of July Pancake Breakfast at Hingham Centre Common is a real crowd-pleaser, featuring pancakes, sausages, coffee, and juice.
PARADE
2022 Theme "History Happens Here"
10:00 a.m. start time.
The Fourth of July Parade steps out from Hingham High School, featuring marching bands, colorful floats, antique cars, and much more. More info available
here
.
PARADE ROUTE & ROAD CLOSURES
On parade day, there will be no parking on the following streets
between 6am and 3pm.
North Street from Station Street to Main Street.
Station Street "In area of Hingham Sewer Dept. building"
Main Street from the Square to Cold Corner
Spring Street
School Street
Pleasant Street from Main Street to School St
Middle Street
The Parade
will start at 10:00 AM near the Hingham High School at the Middle Street/Pleasant Street intersection and will head North across Route 228 and joining Main Street in Hingham Center, and following Main Street to Hingham Square. Parade will turn right onto North St. and finish at Station St. at approximately 11:15 AM.